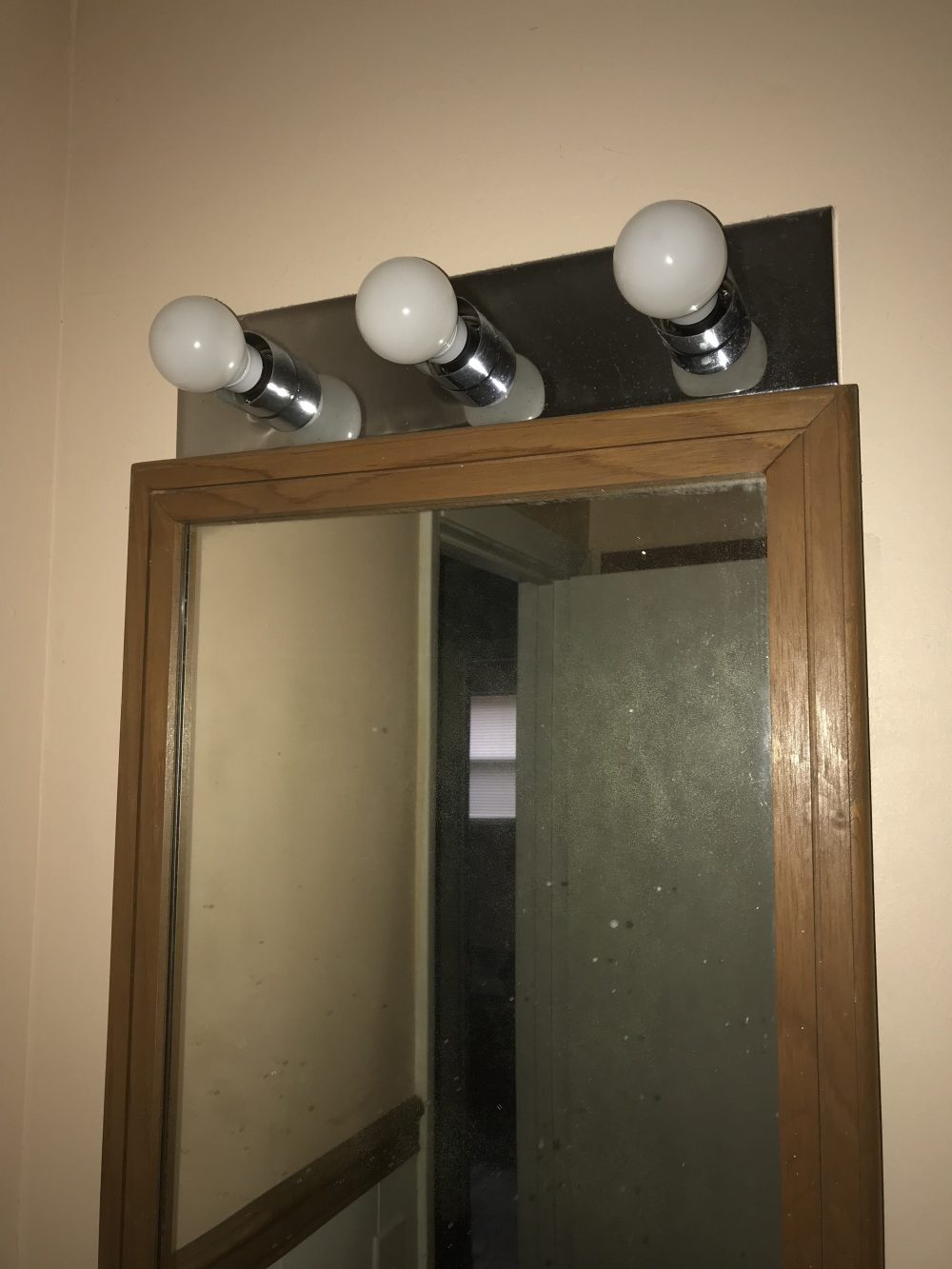 21 Feb

Mirror Mirror On The Wall
Mirror Mirror On The Wall….
We all know how that saying ends but what if the mirror on the wall is outdated and totally beyond what you want to fix? Rip it off the wall!
This month we finally started the bigger project of the main bathroom. I have been waiting for the day we could start on it because although it is a main room of the house…. I hate it! The exhaust fan is loud, the peach colored walls, the ugly mirror, and terrible lighting. That is just a few of the easy fixes.
Of course, I can't forget our half bathroom, we will start on it soon too. To sum up that small room though it is basically useless at this point for us because the vanity is so tiny. We can't even put our toothbrushes in there!
Back to the main bath though we took a day one weekend this month and did two things that really made a big difference to us in the start of the bathroom face lift.
Medicine cabinet mirror rip out
New lighting
We cleaned out our things and started the process of removal. Now, if you haven't done this before ours was helped in by four screws. Behind that was the real mess! After taking it out we realized whoever put this in somehow made it stay somewhat straight and stay in with no real support. Keep in mind this much older cabinet is heavy metal compared to the new lightweight medicine cabinets. How it stay for that long will remain a mystery.
Putting in a new mirror required a bit more labor intensive work than originally planned because of the mess from before but we wanted to make sure this one was done correctly and supported well. After a little wood cutting and hammering a new frame was built and the new one went in very easy. What probably should've taken an hour took about three due to the frame rebuild and straightening of the frame.
Now, on to the lighting of the room. Another project that ended up being a tad more work of leveling things out. This part luckily didn't take nearily as long but did have some issues. The fixture came off very easy, in fact, it wasn't being held by anything! So, it we started getting the new one up in no time with capping some wires and securing some things. The first problem was that the supplied screws from the lighting box were way too long for ours being much older. We always have a ton of extra screws though just for this reason!
Problem number two being the way we had planned on putting it on didn't work because of sizing issues so we had to take it off and turn it around. The original way hung too low over the pretty new mirror making it impossible to open. We turned it and there we have it.
What has the two small fixes done to the room? I feel like it has opened up the room to make it feel bigger and lightened the room up. The old cabinet as shown in the pictures had a brown frame and made the room look darker. Where as the new mirror is more flush to the wall with no dark frame. It is funny what something like this can do to a room but a little progress is good and I can begin to see what our bathrooms will look like when it is all finished.
All of our fixtures, like the new lighting, we have chosen to do a brushed nickel finish. Why? We like it because it is different from the normal chrome which shows a ton of finger prints. Plus, I just like the way it looks!
Soon we will be putting up a new exhaust fan with a light so look for that in the coming months. Next month, we will focus on the market. Since the beginning of the year it has heated up significantly so we need to focus on what that means for buyers and sellers. Fingers crossed too that next we could also be talking about wonderful spring time weather to go along with our heated market!
Take a look at the ever changing market here: https://laketillery.net
Join us on social media: https://www.facebook.com/pierviewproperties/?ref=bookmarks
Love the fixtures we added? Here is a link to find the products!
https://www.lowes.com/pd/Portfolio-Lyndsay-3-Light-9-25-in-Satin-Nickel-Bell-Vanity-Light-Bar/3648386
https://www.lowes.com/pd/allen-roth-16-in-x-20-in-Rectangle-Surface-Recessed-Mirrored-Aluminum-Medicine-Cabinet/1000038583